Secretary-General Calls for Private Sector Track at Rio+20 Conference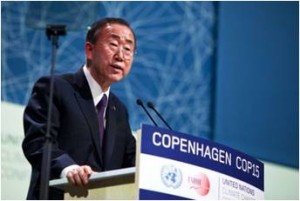 (New York, 21 June 2011) – Acknowledging the critical role of business in addressing global development challenges, UN Secretary-General Ban Ki-moon today called for a strong private sector track at next year's UN Conference on Sustainable Development (Rio+20).
In a message delivered during a luncheon of Global Compact Board members and representatives of UN Member States, the Secretary-General highlighted the success of business participation in the recent UN Conference on the Least Developed Countries (LDC-IV), held in Istanbul. Stressing that the first formal integration of business had brought "significant" results, the Secretary-General urged to "carry this spirit of public-private collaboration forward" to Rio+20 and called for Government support "to ensure that the skills, leadership, resources and innovation of business contribute to our efforts to build a more sustainable global economy and achieve truly sustainable development".
Read the full info in UN Global Compact web site